Cock-a-doodle-doo! Awaken and join Denver Botanic Gardens and Denver Urban Homesteading for that first Chicken House Tour of Denver this Saturday, March. 2. More and more people are raising their very own chickens here's an chance that people observe how it's done firsthand.
The proprietors of 15 chicken coops – in Denver, Edgewater, Englewood, Golden, Lakewood, and Wheat Ridge – will open the doorways for their chicken shacks to supply visitors an chance to determine . . .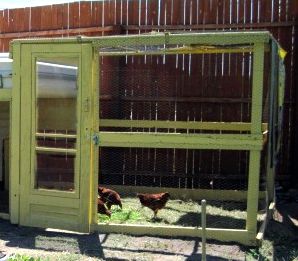 what backyard farming is about. These buddies of fowl is going to be open to let you know that raising chickens not just provides fresh eggs, but additionally keeps gardens strong. Furthermore, these experts will share their "egg-speriences" with chicken care, and respond to questions on compliance with city ordinances, coop design and much more.
In the hustling buzz from the city towards the quiet hum of the country tractor, the Chicken House Tour of Denver embraces Colorado's ranching roots by supplying a glimpse in to the existence from the modern player in a number of settings all through the metro area.
The tours are totally self-led. Participants within the chicken plunge ought to peck around whatever locations they think fit. The coops open at 11 a.m. on March. 2 and can remain open until 4 p.m.
Cost: Tickets are offered in group rates, $20 for several four people. There's a small group of tickets available.
To join up or to learn more, visit our Chicken House Tour registration page.
Blog entry written by Will Johnson, PR Manager in the Gardens
Resourse: https://botanicgardens.org/blog/
Chicken Day! Tour of the chicken coop and first day owning chickens
Video COMMENTS:
Dawn Owens: I can't believe you got eggs already! They must be thrilled with their new home!
kmb383: fireballmalone1 4? My red star lays an egg almost every day!
fireballmalone1: kmb383 that's awesome!! I have been on a roll lately getting 5 for 5 everyday for about a week and a half. They lay later and later then earlier and earlier. It's an interesting cycle they have. Thank you for the great comments. Good luck and ATB
HoaryRider: That is the nicest chicken coop/ run I've ever seen. You could probably rent it out as a guest house. Okay maybe not, but it is a fine piece of work. Cheers
fireballmalone1: HoaryRider I am planning a small cabin way out in the woods for my retreat, and a place for friends to stay. It won't cost as much as the coop lol
azalea5560: Stick their beak in the water … they'll get it. Have a trail cam? Would be interesting to see who's sneaking around at night. Happy girls… giving gifts already. 
fireballmalone1: A trail cam is a great idea.  I tried to catch one but they would let me get anywhere near them.  I figured I'd wait a couple days until they settled down and try again to teach them the waterer.   Thanks for the advice!  ATB
fireballmalone1: azalea5560 they have finally figured out the waterer! I caught one……eventually and took your advice, half hour later, presto. Big thanks
rub one out rosie: im sure they will have a great life.
fireballmalone1: So far they seem to enjoy it.  I went 5 for 5 with eggs on the first day!  atb
Comments are closed here.