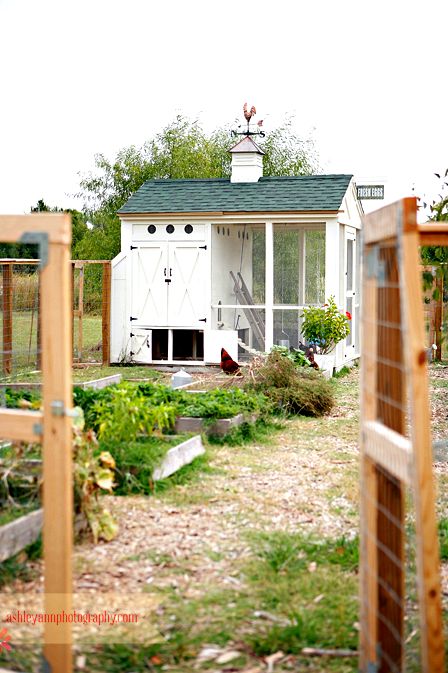 Yesterday, I shared images of the entire process of building our coop. Today's publish is only a photo tour from the coop. Like I pointed out yesterday, our coop relies from Louise Bullard's Chez Poulet plans. I got myself her plans after which made the decision we actually wanted a larger coop to accommodate more wild birds. Consequently, we essentially bending the coop. We altered up the majority of the dimensions and lots of the types of materials according to what we should had use of and price. My father did all of the planning and came up new plans according to Heather's. I won't be discussing any dimensions for the coop or answering specific questions regarding the look because though we reworked the plans, they're still greatly Heather's. You can buy Heather's plans on this link.
There exists a large amount of empty field around our home, which feels spacious, but we like trees. We began a elevated bed garden in the past, but haven't done much into it since – kinda were built with a lot happening (like getting babies as well as an adoption!). This season we put big chunks of your time, labor and sweat into one part of the yard. We began just a little orchard of countless fruit varieties, added the coop, built bigger compost bins and fenced-in your garden.
Next we intend to add another fenced area, add potager garden elements, 6 goats, 2 zebu, along with a dairy cow. Not necessarily. Only the fence and garden elements. We have all sorts of dreams for that area. I'm a readers, planner then an implementer. I've been silently doing my planning and research for that lengthy term. We built a great deal this season and overlooked many of the growing season. I can't wait to determine el born area next spring!
And today the coop.
I truly desired to hang Megabites Duerksen's cow picture with that big white-colored wall.
Within the coop includes a sand bottom with a few wood shavings included too. I truly asked how this could work after i find out about it, but to date it's been great. It stays oddly clean. The chickens are virtually never in here though – usually they're within the nesting boxes lounging an egg, roosting on the rafter or out running within the yard.
Most days we leave the coop totally open like pictured below. The chickens mainly roam the backyard – using the periodic trip to the neighbor's picnic table during dinner. Our compost bins take presctiption the backside from the coop and also the chickens are the most useful compost workers. Eventually we'll fence within the compost area and rotate the chickens between that area and also the garden area based on growing season. We'll prevent them from entering your garden when situations are growing. When it's time to turn your garden soil, we'll allow the chickens do everything work with us (and 'compost' it as being they work!). If you're interested in using chickens inside your garden or how you can ask them to not destroy your bountiful harvest, I suggest it Chicken Gardens. We've tried on the extender extensively for the lengthy term planning.
The sliding door encloses the roosting & nesting box area. The rope to shut it's attached to the outdoors from the coop. We really leave this door open constantly because the outer area of the coop in strongly enclosed. We've three chickens that choose to roost within the rafters from the outer part of the coop. The remainder roost within the rafters from the roosting area (even though we built roosting bars on their behalf!)
Within the roosting area doesn't look this beautiful very frequently. The boys deep cleaned the coop before I required these pictures. We deep fix it (power wash the walls and scrub everything lower about once every two several weeks. Chickens poop a great deal – everywhere. We increase the wood shavings about every 5-seven days after which totally change them out every few days. Our chickens are just within the roosting area once they sleep, to ensure that affects how dirty it will get when compared with chickens that could be inside for extended lengths of your time. The small cut-out holes the thing is result in their nesting boxes (where they're going to put eggs). We connect to the nesting boxes from your exterior wall from the coop (observed in photo on right).
The good thing from the coop is the simplicity of cleaning it. We move our wheelbarrow towards the back side, open the doorways and push all of the dirty (Also known as poopy) shavings in it. Only then do we dump everything in to the compost bins, where it might be awesome compost. Our compost bins are left from the wheelbarrow within this picture.
About this finish, we are able to connect to the 6 nesting boxes to obtain the eggs. We have 2 large compartments for storage. We store chicken supplies, garden supplies and small tools during these areas.
I am not sure my father really understood what he was investing in as he decided to 'help me' develop a coop. I'm grateful he stated 'yes'. Whenever we watch out the kitchen at home and studio home windows, the coop and garden is exactly what we have seen. While It is really a beautiful coop and that i enjoy searching out in internet marketing, things i love most about this is the fact that I acquired to construct it with my father. Maybe I bending the dimensions therefore it would take more time to construct! My father completed the coop having a hand crafted weather vane. Yet another creative work by my father. My father can take shape anything – he can actually. Thanks Father!
Only a indication – I won't be discussing any dimensions for the coop or answering specific questions regarding the look because though we reworked the plans, they're still greatly Heather's. You can buy Heather's plans on this link.
Resourse: http://ashleyannphotography.com/blog/2013/10/16/a-tour-of-our-chicken-coop/
TOUR Our New Chicken Coop!
Video COMMENTS:
William Hopkins: Loved the plan. Pictures were great and plans were well thought out. The coops shown are beautiful, creative, yet functional [ Plan Details Here⇒⇒⇒https://plus.google.com/u/0/115886167078032783384/posts/9n7qbgTYK71 ]. I have thumbed through and marked some coops, some of the designs may not work as well for those who get heavy wet snow though.
Pam Payne: Love the chicken coup! What a great birthday present. Would love to live in the country and raise chickens. TFS and Happy Birthday! 
sandlappersue01: Everything looks so great! I am excited to see your farm grow. Have a great week in The Lord!
Jamerrill's Large Family Table: +sandlappersue01 you too!
Veggie mama: Great setup!
Jamerrill's Large Family Table: +Happywholesome Mama thanks!
Melissa Newell: very nice! #jealous #wantchickens
CHICKENS BY THE LAKE: What a great little coop your chickens will have:)
Richelle Cucchi: Oh I love, love. love this chicken coop Jamerrill:)  I so enjoy your videos friend.
Adalene Alicea: "No I'm gonna walk" lol they're fun
Tags: chicken, excursion, house
Comments are closed here.